08 June 2021
Her Majesty graced the commemoration of World Environment Day
5th June 2021
Her Majesty The Gyaltsuen graced an event to commemorate World Environment Day, which is observed globally on June 5 every year.
Her Majesty launched 4 significant National Actions for the environment: Bhutan's Second Nationally Determined Contributions (NDCs); Third National Communication (TNC) of Bhutan to the United Nations Framework Convention on Climate Change (UNFCCC); Low Emission Development Strategies (LEDS) for Food Security, Human Settlement, Surface Transport and Industries, and the upgraded national Clearing House Mechanism (CHM) under the Convention on Biological Diversity.
Bhutan's NDC and four Sectoral LEDS was prepared with financial and technical support from #UNDPBhutan UNDP - Bhutan through Climate Promise funding.
This year, the theme for the global World Environment Day is "Ecosystem Restoration".
In keeping with COVID-19 protocol, the small number of attendees at the event included the Chair of the National Environment Commission (NEC), officials from relevant sectors and the NEC Secretariat.
The officials representing various agencies working with the environment thanked Her Majesty for granting continued support and guidance to our national conservation efforts as the Royal Patron for the environment, and offered birthday wishes.
World Environment Day is observed all over the country by offices, schools, institutions, and the private sector.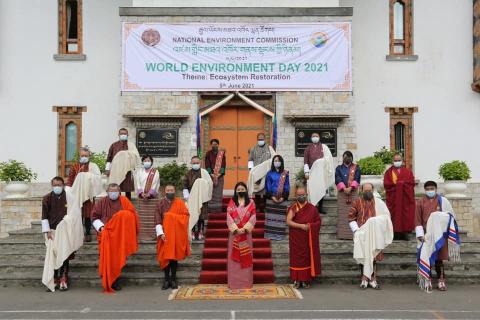 Bhutan